Post by MartinT on Dec 30, 2019 18:24:56 GMT
MCRU No.77 Power Cable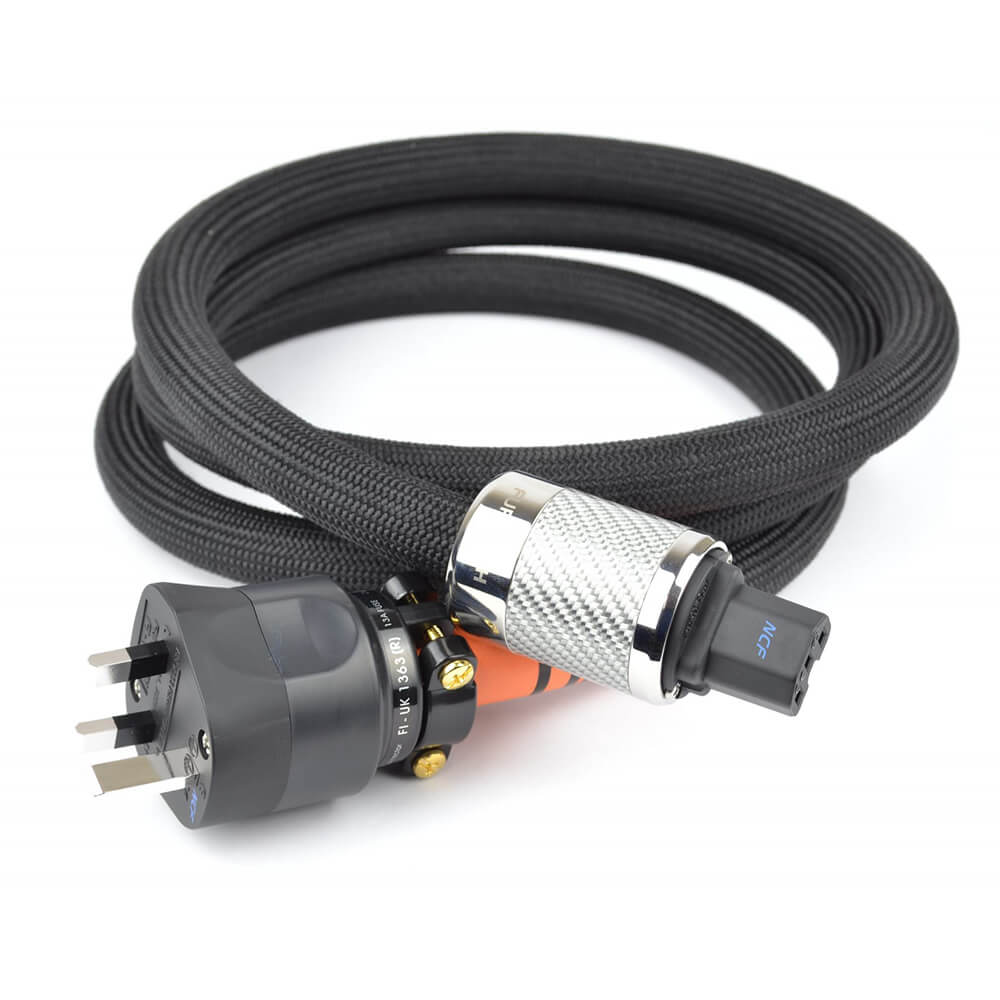 I was scouting around for a cable to use with my new PS Audio P3 regenerator while I temporarily ran my old No.9 into it and David of MCRU insisted that it deserves better so he sent me a No.77 to try out as being the ideal cable for the P3.
The No.77 is the new top of the range power cable from MCRU. It is a very thick and quite stiff cable, so you need to plan your routing carefully for the minimum of bending if you are to avoid any tendency for the plugs to get pulled out. It comes complete with Furutech plugs at both ends. The mains end is a rhodium plug and I tried not to flinch as my findings with rhodium have not always been great over the years (I needn't have worried). The cable itself is massively built and of unknown origin but incorporates DUCC (Dia Ultra Crystallised Copper) conductors developed by Mitsubishi. There are ferrite filtering treatments inside both plugs and the mains end comes complete with an SR Orange fuse. Build quality is very good indeed and there is not much to do except plug it in and let the burn-in start. Actually, I treated the pins and fuse holder with Mad Scientist graphene contact treatment as I do with all my connecting surfaces now.
Feeding power to the P3 (and therefore to all my source components), it didn't take long for the No.77 to show its pedigree and consign the poor old No.9 into my spares box. Simply no contest! The No.77 had authority from the off as well as a superb sense of detail and dynamic range that would make the No.9 cry. Despite this, I gave it 48 hours before really starting to evaluate it although MCRU recommends 150-200 hours, which was easy as I left the P3 keeping the system warm throughout the holiday period - it consumes only 60W. What the No.77 brings to my system are the aforementioned authority and scale, especially into the bass, a huge sense of detail which really surprised me, and a well developed sense of depth and soundstage.
Playing a song like Yello's
Kiss In Blue
demands deep bass extension, big dynamics and an ability to hold Heidi Happy's gorgeous vocals focussed steady throughout the immense projection of detail. A very low noise floor is required for the dead quiet parts of both Bill Callahan's
Drover
and Alt-J's
Dissolve Me
and you can hear everything going on, testament to both its noise floor and vast dynamic range. Depth and soundstage opened up with more hours on the cable, just as happens with pretty much any cable. Emmylou Harris'
Goodbye
portrays depth and exceptional deep pressure waves to great effect. Overall, I could not hear any issues whatsoever, all the gains in my system were upside.
The No.77 clearly works very well with my P3 regenerator and should perform superbly as the primary feed into any system's power distribution. It isn't cheap but then all the best things never are.